How Digitability Created Buy-In: Literally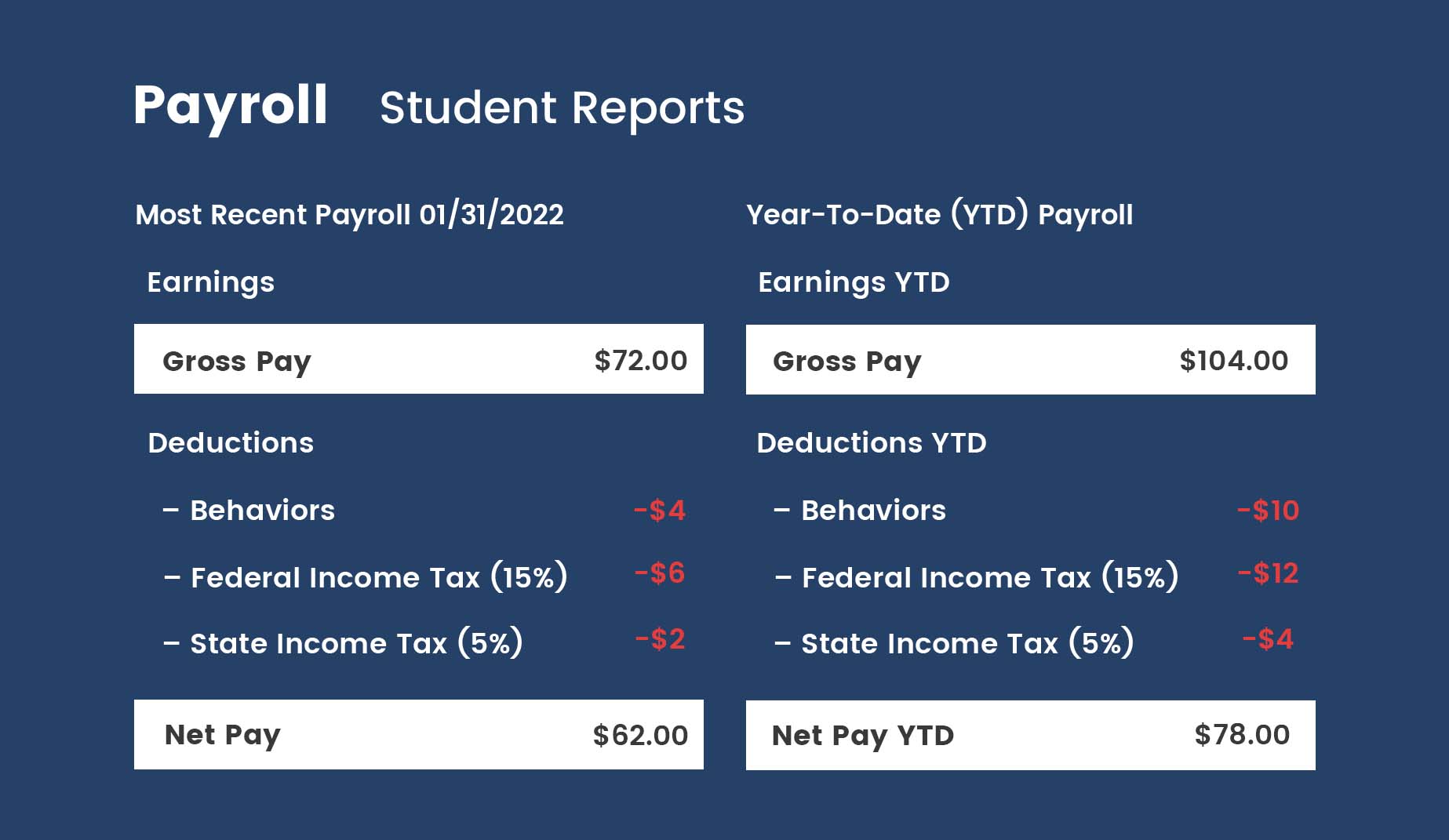 Written by L. Wnuk Ed.S, a Life Skills Teacher with nearly 15 years experience teaching in high school and middle school classrooms in Kansas, Georgia, South Carolina, Florida and now in New Jersey.
Returning to school during the pandemic has been a struggle for many teachers and students. I have found that in many conversations with my colleagues there is a common complaint. The consensus seems to be that students have lost their motivation. They argue that the students have lost their ability to focus, they are not engaging in meaningful classroom discussions and they are not completing the assignments. 
While I agree with my colleagues' observations, I can't help but wonder how can I blame the students after such a hiatus from the classroom environment? In the virtual setting, it was easy for a student to take the backseat. They could turn their microphone and cameras off and complete assignments in a leisurely manner. Now, as schools are transitioning back, the disconnect between students and teachers is accentuated.
Get Your FREE Quote Today!
However, my students and I are fortunate to have Digitability and it's virtual banking system, Bankability, to provide my students with positive incentives to participate in class. With Bankability's banking simulation my students are able to receive virtual paychecks, review paystubs and access bank statements. Each Digitability lesson plan ensures that all of my students are able to easily earn money in a class period.
When my students were freshly back in the brick and mortar classroom from their virtual classrooms, I too noticed the changes in students behavior, motivation and attention. As a result, I turned to my Bankability program. It begins by giving students virtual dollars for exhibiting the behaviors that will support their success in both the classroom as well as the workplace. 
For example, I provide "Participation Dollars" when students share answers, volunteer or are actively engaged in class activities. Additionally, the program gives me autonomy to get creative with the currency. I would award "Bright Eye" dollars to students who may sometimes struggle to stay awake, but did not nap or rest their head on the desk. To support executive function skills, I would give performance bonuses as assignments were completed on time or submitted early. For my students who liked to pull out their cell phones, I awarded "Take a Message" dollars when they kept it in their bag throughout the class session.
As a result, the reluctance to participate and the lack of attention have almost all dissipated since I began using the Bankability program. Now my students not only engage more, but they are also constantly trying to earn more money to get bigger paychecks. They will even have friendly competitions about who earns the most!
With the money that they earn, I have created a classroom store in which they are able to purchase items. I know it sounds like you will have to spend your own hard earned real money, but honestly, many of the items in my store are low-cost and even free!
In my store, I have the typical classroom rewards of candies that I found on Amazon in bulk, a cheap pair of headphones from a dollar store, and some fun items from Five Below; however, many of my store items didn't cost me a penny! I was able to score some erasers, pencils, pens and other school supplies that are stocked in my school's supply closet. I also sell tickets for extra credit, free homework pass, and more! Additionally, I created movie passes for a free movie day, which is more expensive so all students need to save for it. Students can also purchase positive notes home, cellphone passes (with time limits--they pay per minute), library day passes and even the comfy chair pass!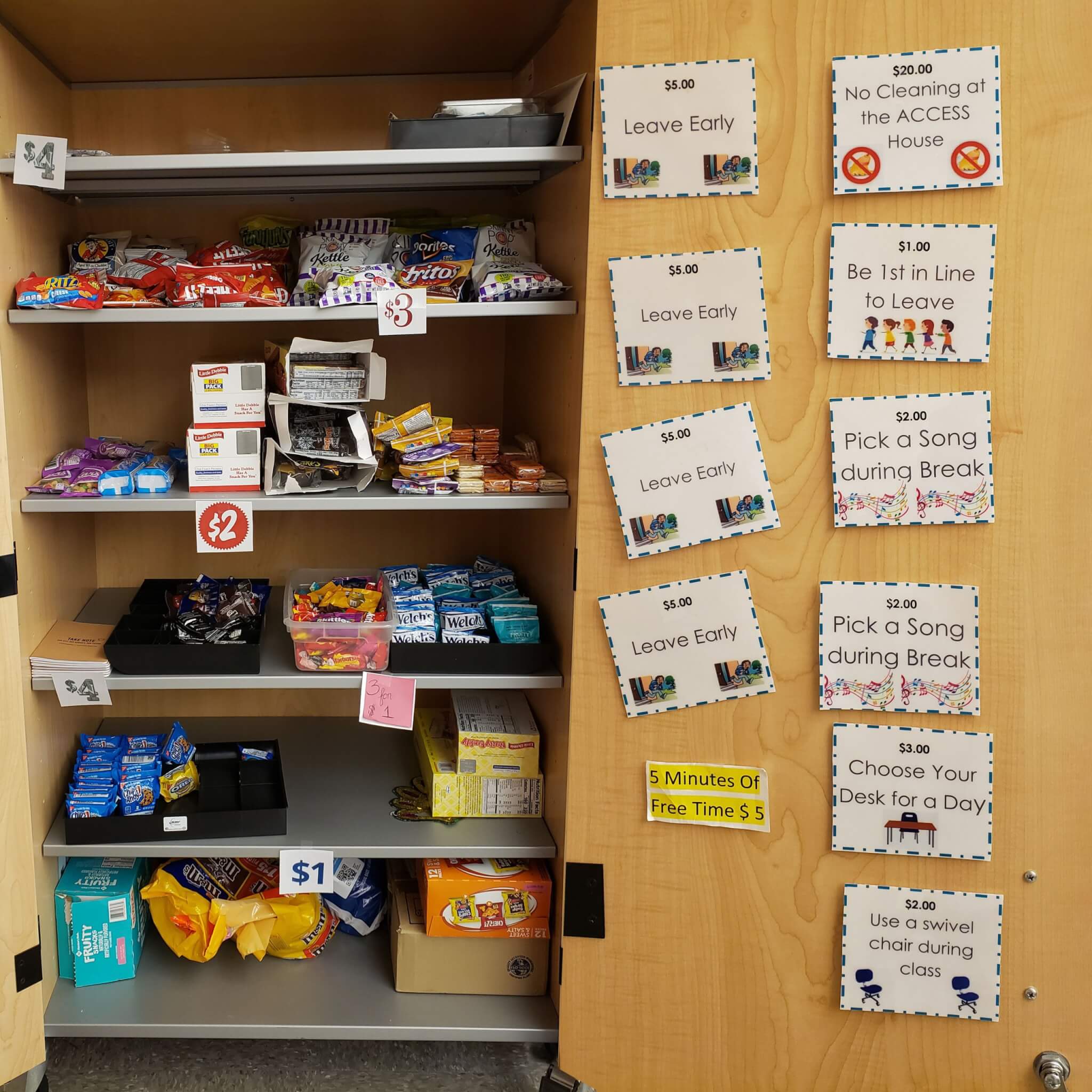 All I need to do next is enter the earnings, or have my support staff member, a.k.a my CFO, do it. Then Bankability automatically runs payroll on the 1st and 15th of each month so I don't have to remember to do it myself. The best part is that all of these dollars that students are earning equates to data points. Now, when it's time to have an IEP meeting or to do some progress monitoring, all I need to do is log into my Digitabilty account and print the student's progress report which will include goals and objectives for all types of life skill domains. On Fridays, my students are able to shop and purchase incentives--with a reminder that they have bills due this month as well!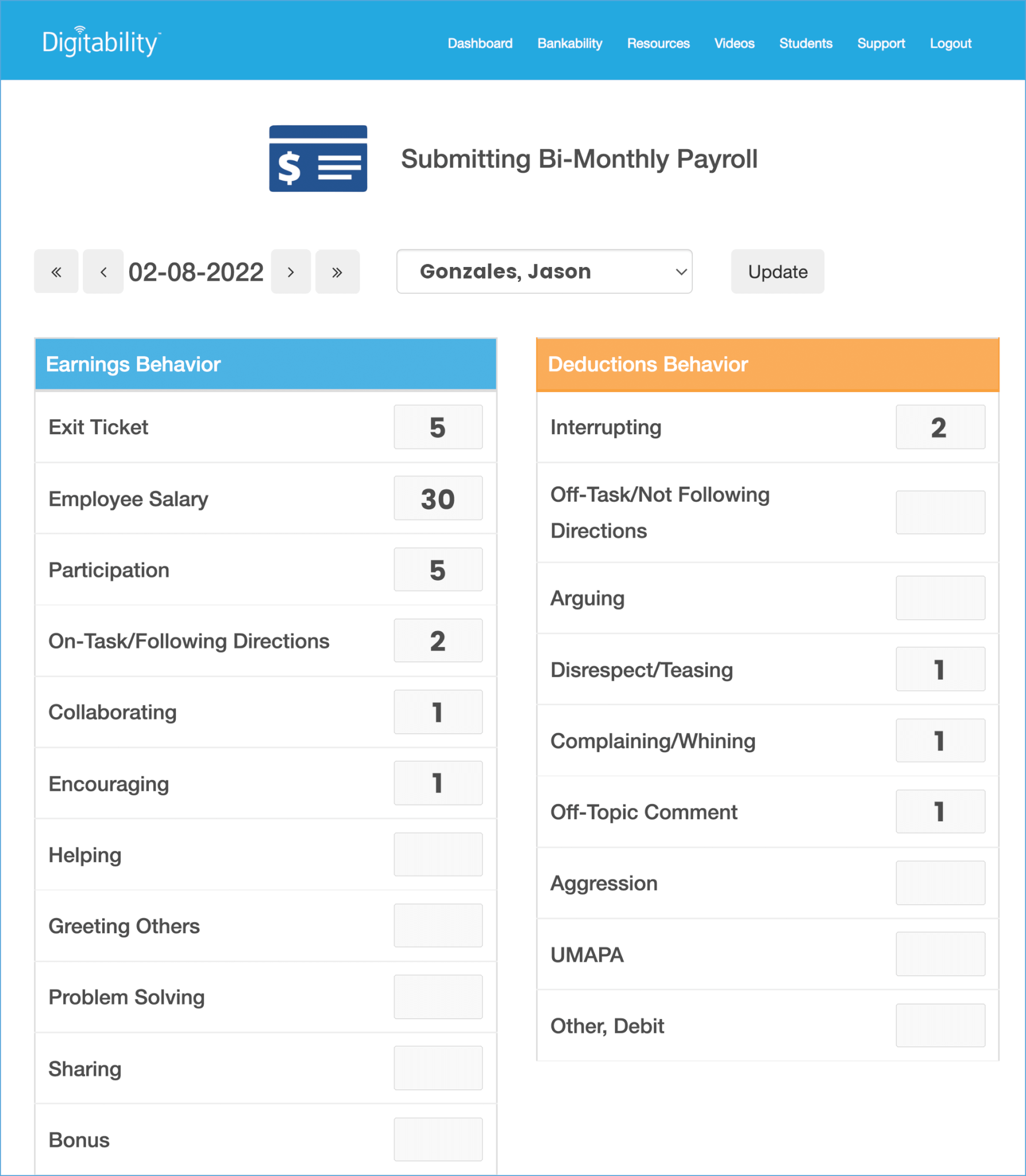 As if their increased motivation isn't enough, my students are also reaping the added benefits of learning how to manage money and they are learning the same way I do---by navigating an online banking system. They are learning the concepts and safety practices surrounding financial literacy in the classroom before encountering it for real.
It truly is a win-win for both me and my students. It has allowed me to provide positive reinforcements with ease and taken all the guesswork out of how to best implement a behavior program for such a wide-range of needs. Now, I am easily able to track the positive incentives that I give and I am able to make it fair and consistent for everyone.