Increase Student Buy-In with Bankability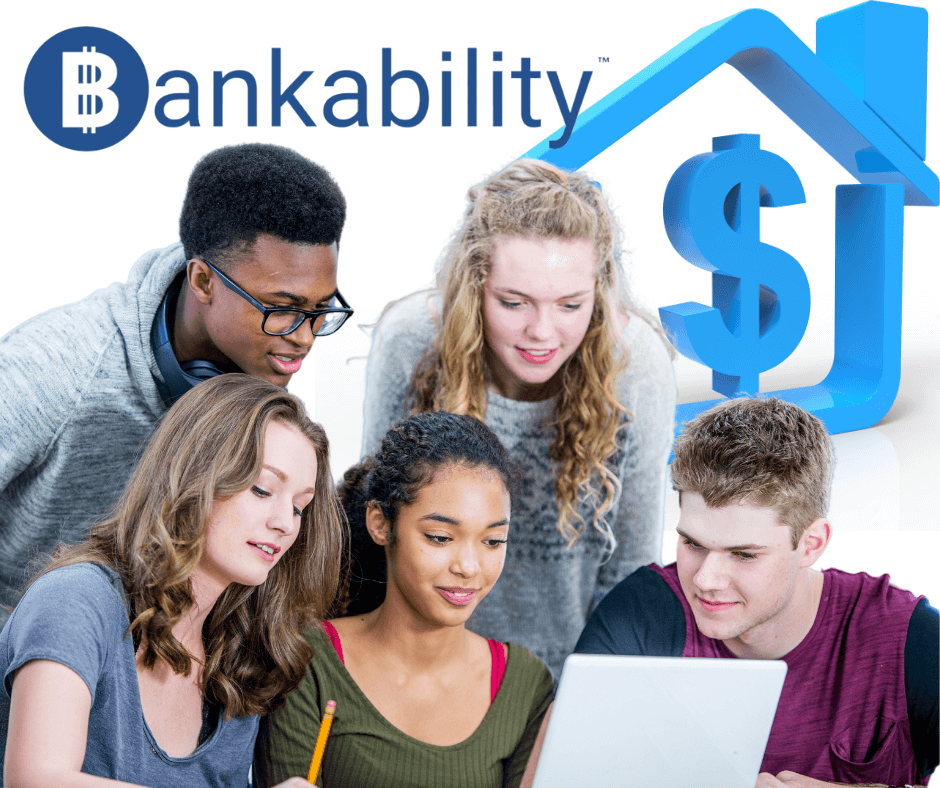 Written by Rebekah Poe, M.Ed.,  an award-winning former special education teacher and national teaching conference presenter from Alabama.
For students with disabilities, it can often take explicit, direct instruction to build positive behavior and social skills within the classroom. In previous decades, the focus was on punishing negative behaviors. However, doing so does not provide instruction on how to exhibit successful replacement behaviors. 
Recently, there has been a push not to "punish" problematic behaviors away, but to place more emphasis on reinforcing positive behaviors. Often, in an elementary school we see this occurring through the use of token economies or sticker charts. But what about our older students? How do we make sure they "buy in" to the reinforcements we are providing?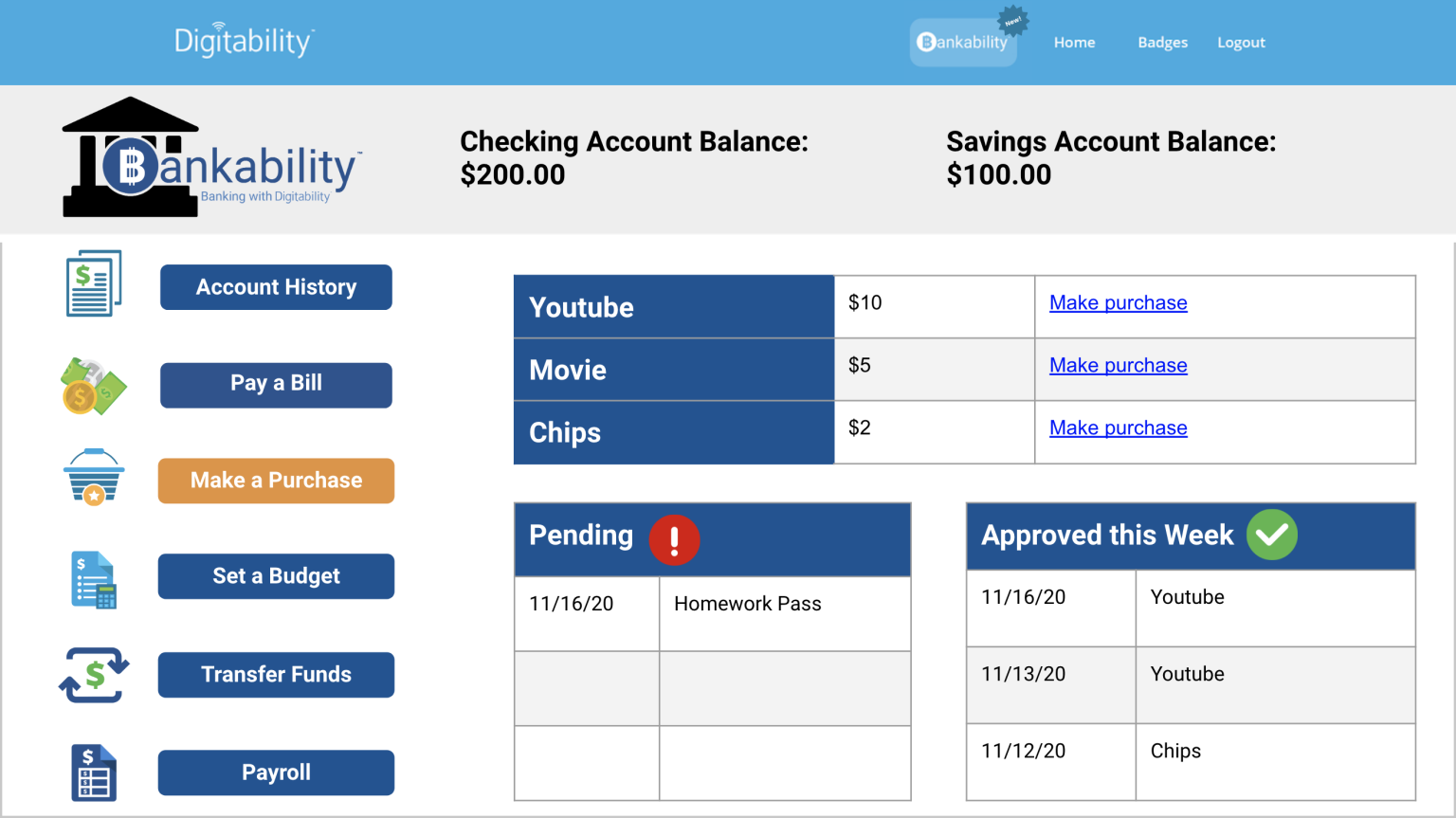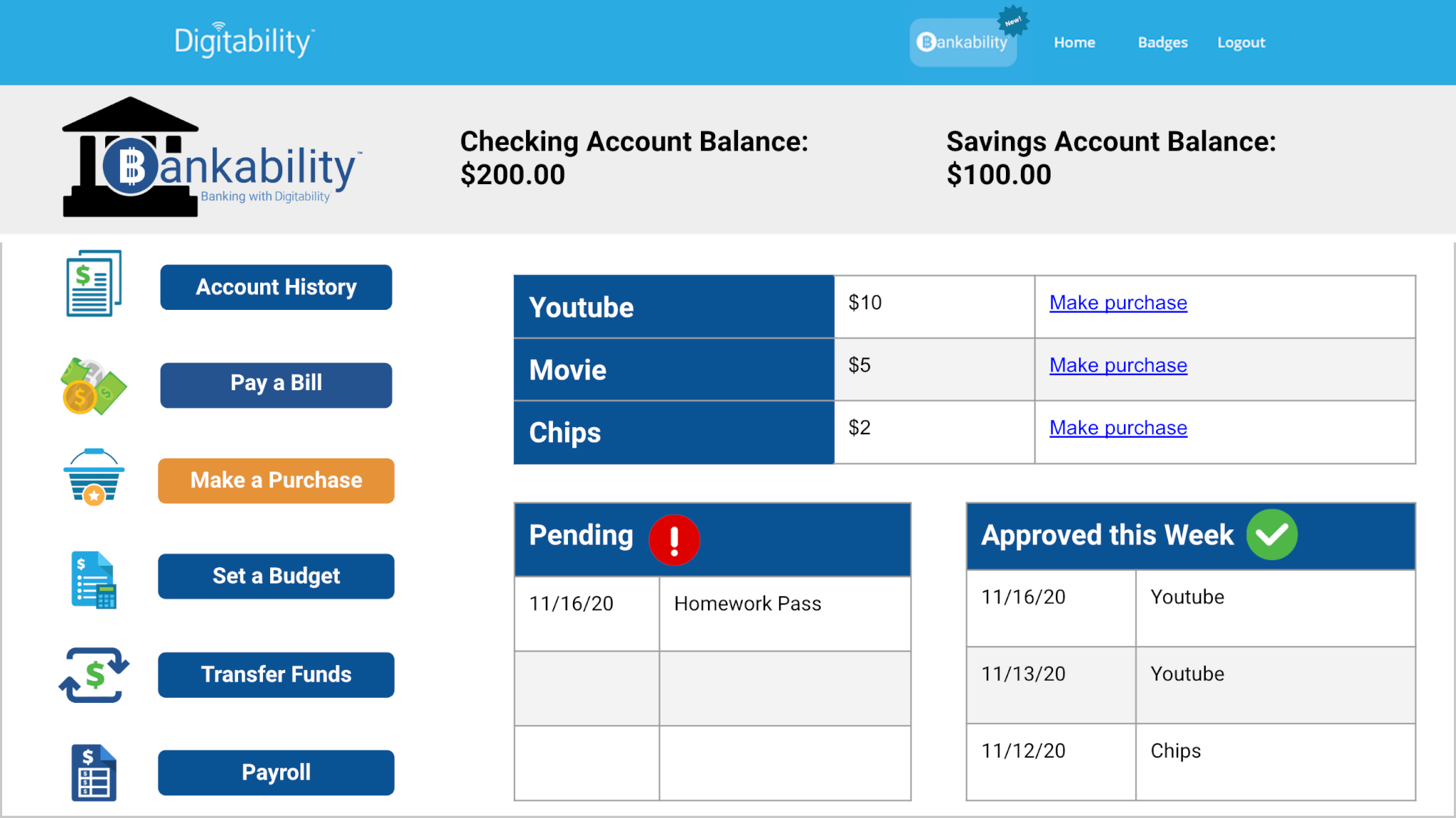 Digitability is proud to introduce you to BANKABILITY- a virtual banking platform for students that is the FIRST of its kind. With Bankability, students earn (and later spend) virtual money for practicing workplace behavior. They receive direct deposits on payday, review pay stubs and personal bank statements.
Using Bankability, students manage their checking and savings accounts, pay bills, shop, and review their finances all from their online bank account. Teachers can customize classroom bills and rewards, run payroll, and approve purchase requests all from their Bankability dashboard.
Bankability also allows teachers to track workplace readiness progress using Digitability's Individual Education Program (IEP) Transition Goal Bank. Assigning each dollar to a behavior will allow teachers to track that behavior overtime. Reports can be generated at the click of a button and shared with their Special Education Team.
Get Your FREE Quote Today!
Click the video below to learn more!
Encourage Independence and Self-Awareness
You can give students a greater sense of responsibility and accountability by having them keep track of their behaviors, as well. We've included a sample lesson from our Work Place Behaviors unit: "Successful and Problematic Behaviors." In this lesson, students identify positive behaviors to increase and problematic behaviors to decrease. At the beginning of the week, go over what success in the classroom looks like and what behaviors are expected to help them be successful. Review the behaviors with your students and allow them to reflect on whether or not they exhibited those successful behaviors. We've even included three versions of the sheet so you can choose the best version for each of your students- from writing, to a checklist, to visuals.
Want to learn more? Request a free demo or product packet today to find out how you can bring everything Digitability has to offer to your school or organization.