Empowering Students with Bankability:
This Teacher's Secret for Positive Classroom Behavior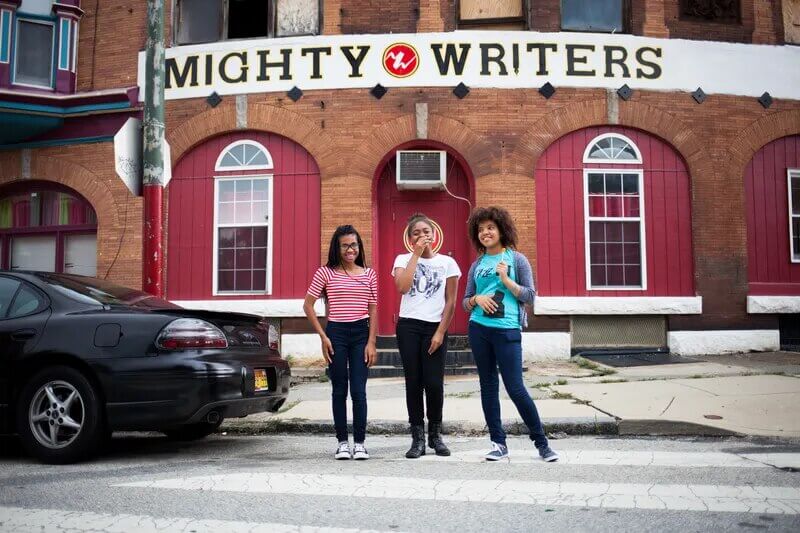 Written by Brittney G.- a Mighty Writers teacher in New Jersey. The Mighty Writers program serves communities in Pennsylvania, New Jersey, and New York City with after school and summer writing workshops to help students fulfill their mission statement to "Think clearly and write with clarity."
Teachers, I remember feeling just like you. Searching for a solution to reinforcing positive behaviors in the classroom, but in a way that my students would really "buy in!" When I started implementing the Bankability Social Economy from Digitability, I was immediately hooked. Bankability has made a huge impact on my students- preparing them for success and teaching them skills they'll need far beyond the four walls of my classroom.
Building Skills with Bankability
As teachers, our primary goal is to help our students grow, learn, and develop the skills they need to succeed in life. One essential aspect of this development is financial literacy, which can be a daunting concept for many students. But what if there was a fun and engaging way to teach financial literacy while promoting positive classroom behavior? That's where Bankability comes in! Bankability is the nation's first virtual banking platform for students, and it's been a game-changer in my classroom. And now, I want to share my experience using Bankability and offer some tips and tricks to help you implement this fantastic tool in your classroom.
Understanding Bankability and the Digitability Social Economy
Bankability is more than just a virtual banking app; it's an entire ecosystem designed to teach students financial literacy and workplace behavior. It operates within The Digitability Social Economy, where students earn and spend virtual money by practicing essential workplace behaviors. Here's a glimpse of what Bankability offers:
Get Your FREE Quote Today!
Virtual Banking Experience:

Bankability allows students to manage checking and savings accounts, pay bills, shop, and review their finances—all from their online bank account. This hands-on experience mimics real-world financial transactions, making it an invaluable learning tool.

Workplace Readiness Tracking:

Bankability integrates with Digitability's Individual Education Program (IEP) Transition Goal Bank, allowing teachers to assign each virtual dollar to a specific behavior. This feature enables you to track behavior progress over time and generate insightful reports for your Special Education Team.

Customization:

Teachers can customize classroom bills and rewards, run payroll, and approve purchase requests from their Bankability dashboard. This flexibility lets you tailor the experience to your students' unique needs and goals
Best Practices Implementing Bankability in your Classroom 
Now, let's delve into some tips and tricks to help you make the most of Bankability in your special education classroom:
Create a Menu Board:

Design a menu board that lists items students can purchase as rewards, along with their prices. For example, you can offer incentives like 15 minutes of YouTube time for $15. This not only motivates students but also helps them practice budgeting and decision-making.

Monthly Bills:

Work with your

Digitability Implementation Coach

to assign bills, such as a $10 internet usage fee, to simulate real-world financial responsibilities. This teaches students about budgeting, prioritizing expenses, and managing their finances responsibly.

Behavior Fees:

To address problematic behavior, Bankability includes fees that students may incur for actions like arguing or teasing. This approach can serve as a valuable lesson in accountability and self-regulation.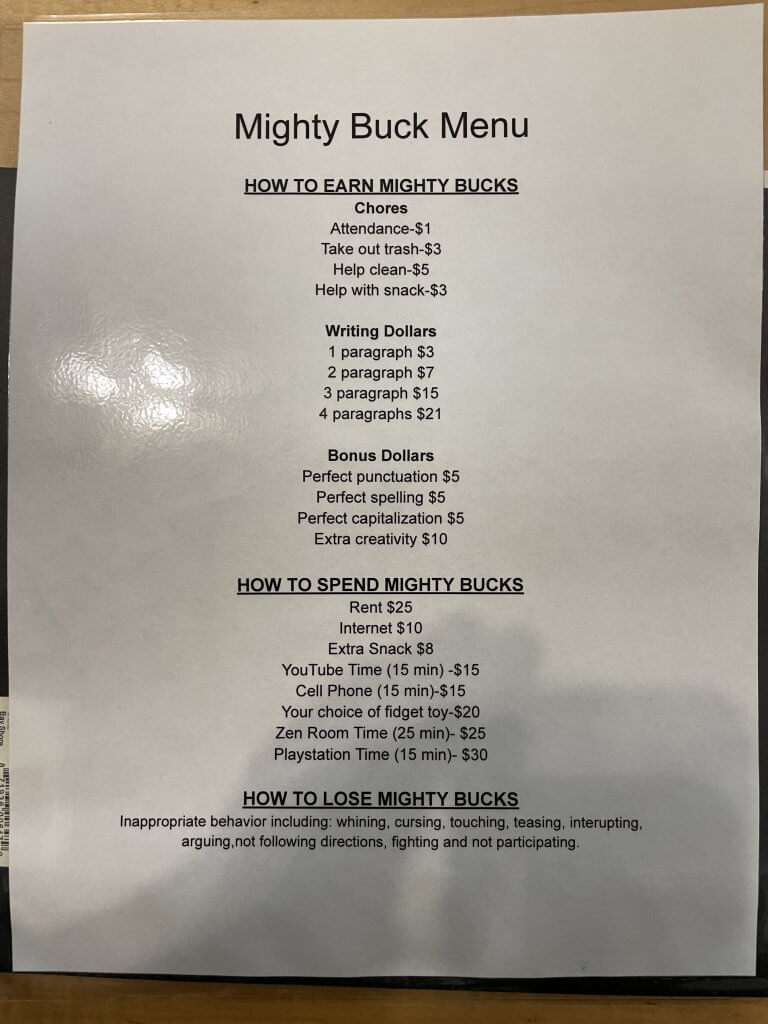 Laminate Reusable Forms:

To save paper and resources, laminate forms that students will use repeatedly, such as the dollar trackers and income goals forms. This eco-friendly approach also encourages students to be mindful of their actions.

Designate Account Check-In Days:

In my classroom, I established specific days for students to log in and check their Bankability accounts. This routine helps my students develop financial management habits and promotes a sense of responsibility.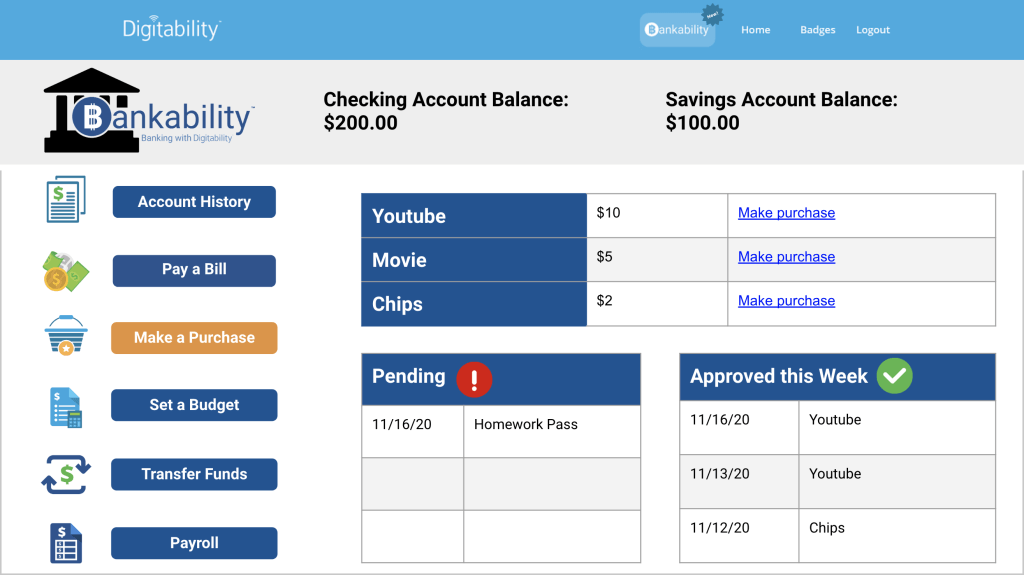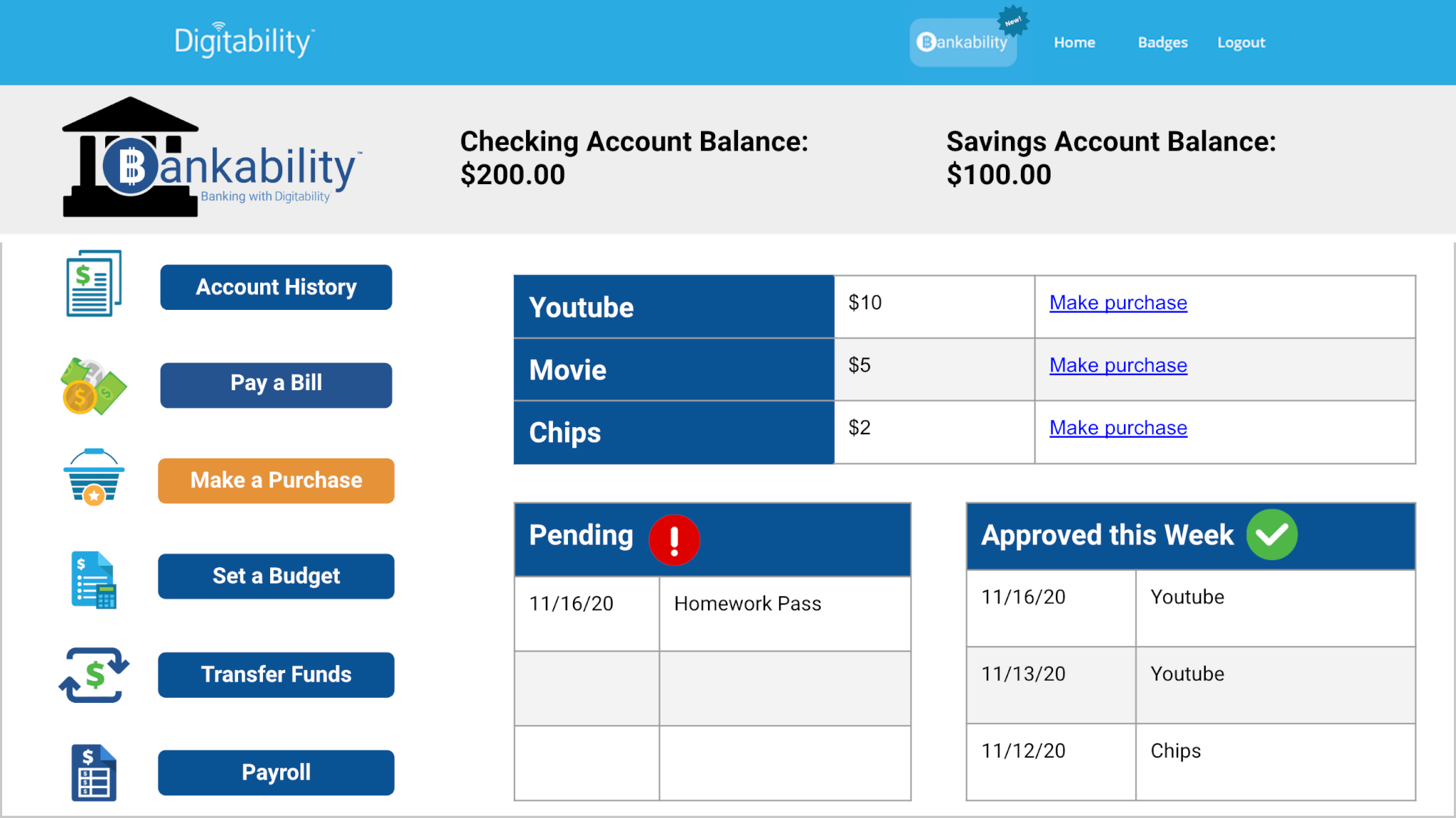 Bankability has been a game-changer in my classroom, providing an engaging way to teach financial literacy while reinforcing positive behavior. By customizing rewards, incorporating bills and fees, and implementing these practical tips, you can create a dynamic learning environment that prepares your students for success in both their academic and financial futures.
For educators, Bankability offers an array of tools to facilitate effective classroom management. Teachers can customize classroom bills and rewards, making the curriculum adaptable to the specific needs of their students. They can also run payroll and approve purchase requests from their Bankability dashboard, streamlining administrative tasks. This feature not only enhances the learning experience for students, but also simplifies the workflow for educators. Overall, this makes it easy for teachers to teach financial independence.
I encourage you to explore Bankability and The Digitability Social Economy in your classroom. It's an innovative and effective way to empower your students with the skills they need to navigate the modern world with confidence. Together, we can help our students become financially literate and build the foundation for a brighter future.
Sign up today!
Digitability's new Bankability program revolutionizes the way students learn about finances and workplace behaviors. The integration of financial literacy into the curriculum equips students with practical skills they can use to lead independent lives. Bankability's user-friendly interface, customizable features, and progress-tracking capabilities benefit both students and educators.
As we continue to prioritize comprehensive education for students with cognitive and developmental disabilities, Bankability stands as a pioneering solution that bridges the gap between classroom learning and real-world application.