The Digitability Work Simulation: Implemented In Both Virtual and In-Classrooms Environments
Just as any good teacher plans a compelling lesson, Digitability has designed its award-winning, work-ready transition program with the end in mind.
Schools use Digitability to provide a comprehensive approach to special education learning. While digital literacy serves as the foundation, we use technology as a hook to develop social and communication skills, which are often a barrier to employment.
What is a Digitability Work Simulation?
Digitability Work Simulations, project-based learning experiences involving new or existing community partners, provide students exposure to various potential career pathways. Districts can streamline their existing partnerships or establish new employment pathways through Digitability. This can be done in both virtual and in-classroom environments.
Digitability's Work Simulation library also includes projects designed based on local, regional, and national employment needs. 

How does it work?
Digitability employment experiences are personalized to meet students where their current needs and interests are.
The process begins by choosing a work simulation project. For example, the class may start a coffee business, learn how to market youtube videos, perform data entry, and more.

After choosing their work simulation project, students are then hired for jobs and begin practicing workplace behavior, managing their tasks, using tech skills for independence, self-advocating, self-regulating and more.
Digitability Work Simulations include the Digitability Social Economy. In the Digitability Social Economy, students earn virtual Digitability dollars when they exhibit behaviors that will make them successful in the workplace and increase their independence.
Furthermore, using those dollars earned, Digitability teaches students the fundamentals of budgeting concepts, such as earning, spending, and saving.
Creating Workplace Readiness
Through collaboration on team projects, students develop the workplace communication skills and workplace behaviors needed to obtain and sustain employment in today's competitive job markets. This Digitability work-ready process results in the development of individualized work-ready portfolios for every student.
Each student portfolio includes an online profile that will help students explore employment interests and connect with potential employers. It also allows them to showcase their Digitability work experience. Through Digitability, every student graduates with project samples AND develops and practices their talking points about these projects in preparation for the interview process.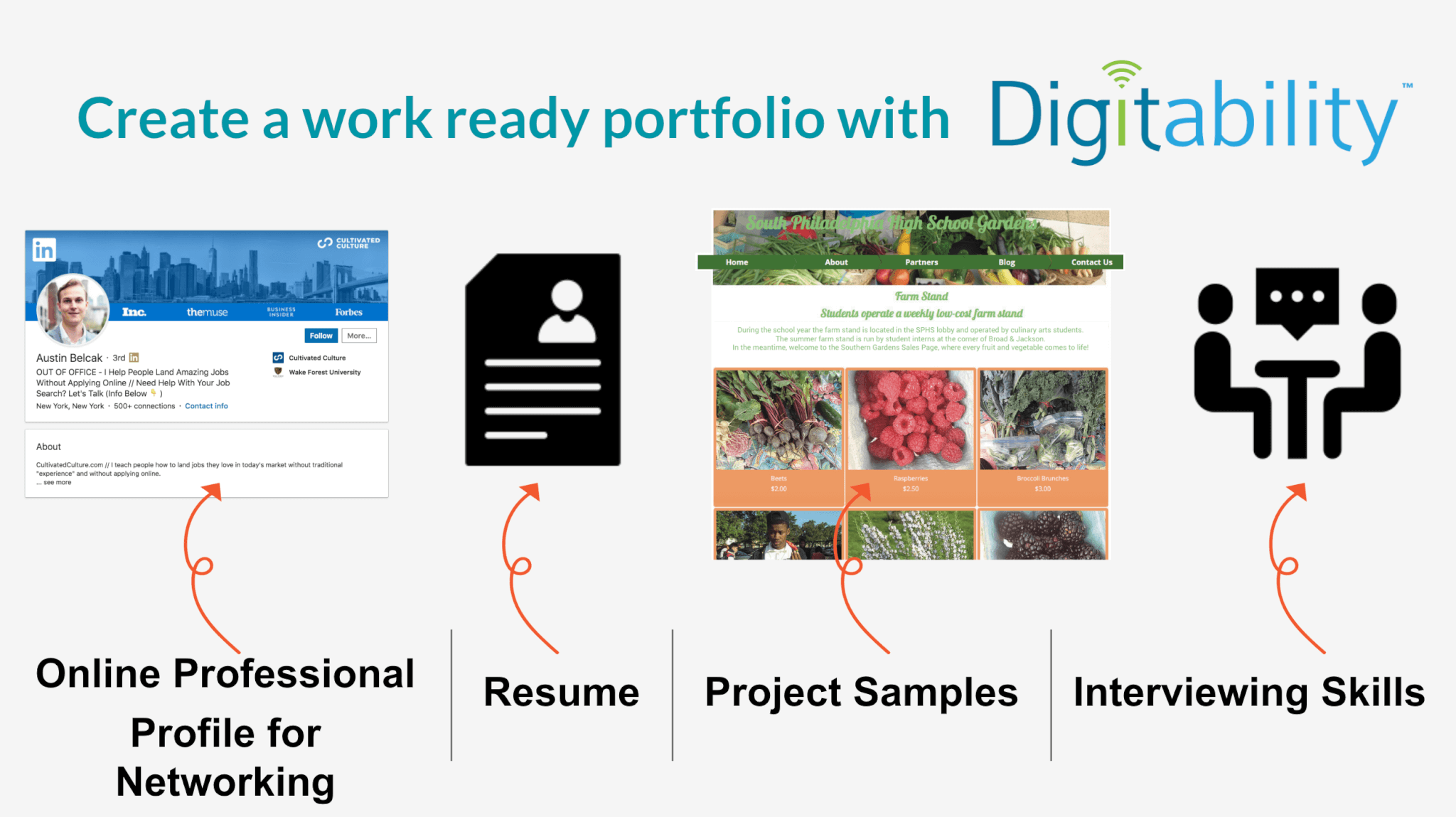 Use Digitability Work Simulations to Transform Your Transition Programming in Both Virtual and In-Classrooms Environments