Southern HS teacher takes prize for Digitability
Over her six-year teaching tenure at South Philadelphia High School, 2101 S. Broad St., Michele McKeone has stressed the need for perseverance, knowing that her pupils, all learners on the autistic spectrum, will face unfair perceptions as they strive for social integration.
The special education instructor emulated the thriving teenagers May 8, as she overcame a global group of applicants to receive the Educational Services of America Prize for Innovation in the Fields of Special Education and At-Risk Students for Digitability, her two-year-old Web-based aid for acclimating youngsters to technology.
"I was ecstatic because it is very rewarding to have the opportunity to share my vision," the 31-year-old said Friday from her Lower Moyamensing classroom. "I'm excited to scale my content to reach thousands of families across the country."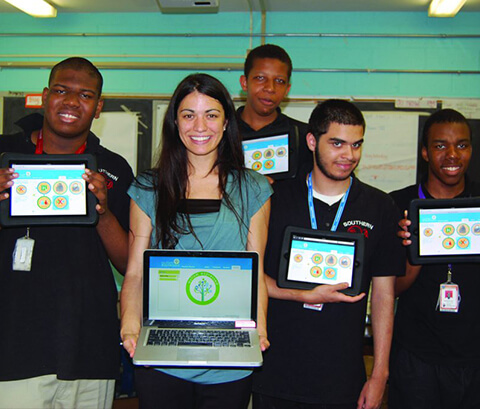 In claiming the $10,000 endowment from the fourth annual University of Pennsylvania Graduate School of Education and Milken Family Foundation's Education Business Plan Competition, the resident of the 1300 block of Tasker Street emerged as one of seven winners from a 250-entrant pool. Representing 17 countries, the hopefuls competed for $145,000, with the Passyunk Square dweller eager to tout her belief that society must strengthen autistic adolescents' life skills instruction.
"I use digital media to circumvent the learning variations of those with autism," McKeone, who earned her special education master's degree from Chestnut Hill College, said as her eight pupils interacted and visited her brainchild's website. "I'm all about preparing them for different opportunities and consider this instruction a new way to hit more rigorous goals and objectives."
The ebullient educator readied her reaction to a dearth of resources through the University of the Arts, whose Corzo Center Creative Incubator/Wells Fargo Fellowship granted the alumnus $10,000 in 2011. She launched the public platform last year, with the homepage billing her quest as teaching "marketable, digital skills to promote independence for special education students in a technology-driven society and economy."
To acquaint her charges, freshmen through seniors, with those concepts, McKeone starts by discussing Internet basics, such as browsing, managing e-mail accounts and understanding Web safety by differentiating between proper and improper conduct and content. Lessons, 150 in total, build on their predecessors and feature activities for practice purposes. After each gain, McKeone bestows achievement badges, with members also able to accumulate imaginary incomes to heighten their knowledge of financial obligations.
"Under the law, I am to provide the least restrictive setup," she said as DeShaun Cole marched to the head of the class to deliver a presentation on their school's garden. "My mission is to raise the bar for them so that they can overcome stigmas and notions of what they can be and what they can achieve."
According to a '12 University of Pennsylvania Wharton School survey that appears on Digitability, 47 percent of parents of autistic children find themselves "Not at all satisfied" with educational offerings for their offspring, with another 26 percent of responders "Mostly unsatisfied." In presenting her curriculum before the judges three weeks ago, McKeone reiterated that early intervention cannot continue to be the lone recipient of engrossing support. As her edifying duties have her calling on applied behavior analysis and Benjamin Bloom's Taxonomy of Cognition that addresses affective, cognitive and psychomotor matters, she has observed greater earning and learning potential, increased motivation and resiliency among her ambitious youths.
"They're giving their all every day," McKeone said of the teenagers, most of whom spend the entire day with one another. "Most need multiple ways to express themselves, so I am targeting how best to do that because I know that is true of so many autistic figures."
Cole numbers himself among those whose aspirations for a fruitful existence have received enduring encouragement. The 17-year-old junior has worked with McKeone for three years and has come to love the rapport he shares with his moderator and peers.
"I think we are excelling really fine," the resident of the 1700 block of Reed Street, who earned kudos for his explanation of Southern's green space, said. "Personally, I like working on projects and getting ready for my future."
The Point Breeze inhabitant is greatly anticipating landing a job, likely in customer service, and has crafted a résumé and worked on his interviewing abilities. Friday's presentation gave him more understanding of the scrutiny that will await him as he tries to maximize his dreams.
"So many people are quick to judge autistic individuals," McKeone said, adding that her attendees came to her with individualized education programs and that the school can continue to offer life skills tutelage to them until they turn 21. "If they were to analyze more, they'd learn how bright and excited to advance that they are."
The New Jersey native applied for her eventual honor in February to tally more believers in her philosophy and learned of her semifinal status last month. Venturing to the Ivy League campus for the competition's conclusion, she knew she had come a long way from her early education days when she possessed no autistic support knowledge.
"I know how hard it can be to have a start-up company," McKeone, also Digitability's CEO, said of sharing with her students the realization that persistence is a must. "I'm ready to advance the lives of as many people as I can."
Along with the award money, she received an invitation to the Education Design Studio Fund, an initiative through the University of Pennsylvania that will likely commence this summer. Diligently working to place her content, which is responsible for a big chunk of her instruction, within organizations and schools, she values opportunities to promote literacy and, more importantly, openness.
"I run a structured, disciplined classroom," McKeone said. "We try to understand what the world has to offer, but the focus is on what we have to offer back."