Digitability is one of ten finalists selected to compete in the Milken-Penn GSE 2013 Education Business Plan Competition

Philadelphia's Digitability Named Finalist in the University of Pennsylvania's Graduate School of Education and the Milken Family Foundation
2013 Education Business Plan Competition: Share your idea. Change the world.
Philadelphia, PA, April 9, 2013 – Digitability is one of ten finalists selected to compete in the Milken-Penn GSE 2013 Education Business Plan Competition (EBPC) sponsored by the University of Pennsylvania's Graduate School of Education (Penn GSE) and the Milken Family Foundation. Founded by Michele McKeone, M.Ed., Digitability is an interactive curriculum that teaches digital literacy to students with disabilities. Serving nearly 20 organizations throughout the northeast region of the United States, the demand is growing. The company is preparing to get the online payment system running so they accept single-family subscriptions. Education entrepreneurs from 10 early-stage start-ups will compete in the final phase of the competition on the Penn campus in Philadelphia on May 7-8. The competition features six prizes totaling $120,000 in funding.
In its fourth year, the EBPC attracts innovative ideas from around the world–with three previous finalists landing spots on Forbes Magazine's "30 Under 30" list of Gen-Y thought leaders who are reinventing education in 2013. The competition stimulates cutting-edge ideas–whether local or global, profit or non-profit, or preschool through adult learning–that serve the world's educational needs. This year's finalists were chosen by a panel of 140 experts who judged a total of 250 applications from 17 countries. The competition will be emceed by Betsy Corcoran from EdSurge, an online hub for educational technology reviews, and will feature edtech entrepreneur Geoff Ralston of ImagineK12 and keynote speaker Lord David Puttnam, Britain's Chancellor of the Open University.
"The competition is changing how the world thinks about edtech, entrepreneurs, and education," said Dr. Bobbi Kurshan, Executive Director of Academic Innovation at Penn GSE. "Our illustrious judges have an enormous range of expertise in education and entrepreneurship and have identified the best ideas out there for early start-ups in education." The full roster of 2013 Milken-Penn GSE Education Business Plan Competition Finalists includes: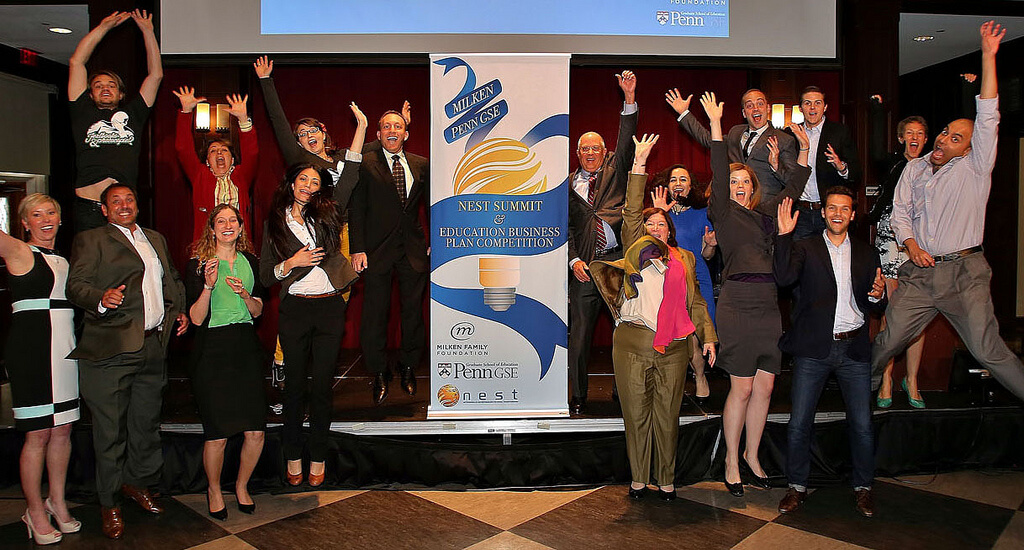 Holly Carter, BYkids
Jill Frankfort, Persistence Plus LLC
Marjan Ghara, BiblioNasium
Lida Hasbrouck, Ginkgotree
Victor Karkar, scrible, Inc.
Eve Lebwohl, Edfolio
Michele McKeone, Digitability
Kimberley Munzo, ASPIREDU
Kathleen Schindler, UpSkill Capital
Preston Silverman, Raise Labs, Inc.
Penn GSE's NEST group (Networking Entrepreneurs for Social Change) was conceived to catalyze innovation in education. The EBPC competition was launched in 2010 as a partnership between NEST and the Milken Family Foundation, and marks the first-ever education business plan competition. Competition finalists will present their projects—showcasing the best and most promising new ventures in the field—to a select panel of industry leaders on the Penn campus on May 7, 2013. Funding totaling $120,000 will be awarded through the following six prizes:
The Milken Family Foundation First Prize ($25,000) and Second Prize ($15,000).
The American Public University System Prize for Innovation in Online Education ($25,000).
The Educational Services of America Prize for Innovation in the Fields of Special Education and At-Risk Students ($20,000).
The Erudient Education Prize for Innovation in Borderless Education ($10,000).
The Startl Prize for Open Educational Resources ($25,000).
As part of the competition, the NEST Conference will provide a one-of-a-kind opportunity for finalists to consult with experts and investors in the field. Sessions featuring some of the brightest minds in educational research will explore ways that new research can support finalists' ideas. A discussion led by entrepreneurs will focus on how to transform academic research into educational products and services that have an impact. Numerous major edtech investors will attend the two-day event.
The Milken Family Foundation was established by Lowell and Michael Milken in 1982 with the mission to discover and advance inventive and effective ways of helping people help themselves and those around them lead productive and satisfying lives. The Foundation advances this mission principally through the various programs it initiates and carries out in the areas of education and medical research.
Penn GSE is one of the nation's premier research education schools. A small percentage of education programs in the U.S. offer doctoral degrees, a tiny fraction are located at flagship research universities, and no other education school enjoys a university environment as supportive of practical knowledge-building as the University of Pennsylvania. The School is notably entrepreneurial, launching innovative degree programs for practicing professionals and unique partnerships with local educators, not to mention the first-ever business plan competition launched exclusively in education.