Digitability Founder, Michele McKeone, M.Ed Recognized as Teacher Changing the Face of Autism Education
http://thenotebook.org/blog/135965/south-philly-high-teacher-wins-20k-ed-tech-startup

Creating social networks to help kids share books. Data-mining to pinpoint potential dropouts from online courses. Sending digital "nudges" about good study habits to the smartphones of college students. These days, it seems everyone is an ed-tech entrepreneur. "I think educational technology is going to transform education," said Bobbi Kurshan, executive director of academic innovation at the University of Pennsylvania's Graduate School of Education.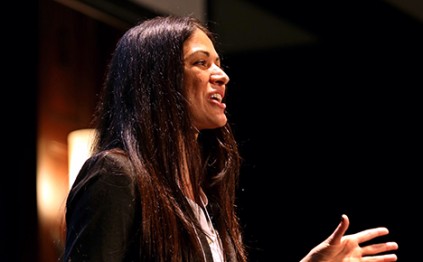 "We're going to see change, and if we don't keep up with it, then we're not going to be able to make a difference." To help spur the kind of innovation Kurshan hopes to see, Penn GSE and the Milken Family Foundation hosted their fourth annual Education Business Plan Competition this week, awarding a total of $145,000 in prize money to four ed-tech start-up companies.
Among the winners was Michele McKeone, a special education teacher at South Philadelphia High School who was profiled by NewsWorks and the  Notebook last April for her work teaching digital literacy to teens with autism.
Penn GSE also announced Wednesday that it will help start a new "Education Design Studio Fund." Intended to incubate ed-tech startups, the fund will be housed at the much-publicized Oxford Mills housing development, which will provide discounted apartments for educators and serve as the regional headquarters of Teach for America.
The Milken-Penn GSE business plan competition is just part of the torrent of private money and attention being directed toward education technology. Last year alone, investors poured $309 million into new ventures aimed at reshaping America's K-12 classrooms, according to GSV Advisors, an investment bank focused on the education industry.
Many question the ready availability of resources for private companies while existing public school classrooms go without. Even as the Penn business plan competition was underway, hundreds of Philadelphia students took to the streets to protest budget cuts that could mean the end of art, music, guidance counselors, librarians, and sports in city schools next year.
But Kurshan says the ed-tech revolution is already well underway. The key, she said, is to make sure it's effective. That means bridging the divide between teachers — who tend to have great ideas, but no business savvy — and entrepreneurs, who know how to turn a good idea into a moneymaker, but have no clue what actually works in a classroom.
"We have a lot of technologists that may have made money in Facebook or Google or eBay, and now they want to work in a field that's got social impact. On the other side, we have a large influx of people into the education system [who] want to do reform," Kurshan said. "We think those two voices need to be speaking to each other. That's where we come into play." The 31-year old McKeone exemplifies the results.
In her classroom at South Philly High, says McKeone, she's seen how learning to use email, blogs, and social networking sites can help unlock the outside world for severely impaired students who might otherwise just rock silently in their seats. After a string of local successes with her self-designed curriculum, McKeone says she's ready to grow her new company, Digitability. But the path from classroom teacher to CEO has been rocky.
"The process of me navigating the startup world, I feel, is very much like the process that my students experience," McKeone said. "They don't necessarily have the language, or the understanding of all those social nuances, and sometimes if they experience failure, it develops insecurity. I've felt that way often."
"But what I teach my students is to persevere," she said. "I've had to learn that lesson as well."
At Penn on Tuesday, McKeone strode confidently across the stage, then addressed a panel of judges that included industry heavyweights like Ron Packard, the founder and CEO of K12, Inc.
"Parents [of children with autism] are actively seeking supportive services to increase educational outcomes for their children," McKeone told the judges. "The market is responding, but most of what's out there is early intervention, with nothing to support the formative needs of adolescents with autism."
She walked away with $20,000 and the prize for the most innovative business plan for special education and at-risk students.
McKeone says the money – and the relationships – will help her get Digitability into the hands of individual families in their homes. The big winner at the event was Raise Labs, which won three prizes totaling $75,000 to grow its model of awarding a series of "microscholarships" to high school students who complete specific challenges on the path to college.
Persistence Plus, the company that provides digital reminders to college students and bills itself as "the Weight Watchers of college completion," took second place, winning $40,000 overall. A total of 10 finalists, out of an initial field of 250 applicants from 17 countries, presented at the competition. All of the finalists will be invited to participate in the new Education Design Studio Fund, which will offer "ed-tech start-ups the chance to collaborate with established and successful stakeholders, all of whom believe in the great potential of innovation in education," according to Kurshan.
This story was reported through a partnership in education coverage between WHYY/NewsWorks and the Notebook.