You're invited to this launch event to equip students in Kansas with work-ready skills for our tech-driven economy.
On January 25, 2018, the official rollout of Digitability's pre-employment and transition work-ready training program for students age 14-21 with a disability begins at Blue Valley North High School.  
You're invited to attend to attend the launch to see firsthand how Digitability's award winning work-readiness program is addressing the unemployment crisis facing students with a cognitive disability in the state of Kansas. 
You will also get to meet the Digitability team and learn more about how Digitability is used in schools across America, like in Philadelphia: https://digitability.com/phillylaunch/
Please use the form on the side to RSVP for this event now! 
Can't attend on Thursday? No problem, you can still connect with Digitability to learn more about the program or how to bring it to your school in Kansas by filling out the form on the side.
About Digitability
Today, only 30% of people with a cognitive disability are employed. The term, "the cliff," is used by researchers to denote the drop-off of services to support people through their transition to our tech-driven economy. This means that about 70% of students with disabilities in Kansas are at risk of falling off of that cliff.
Digitability is a pre-employment transition program that prepares students for the tech-driven and highly social workforce.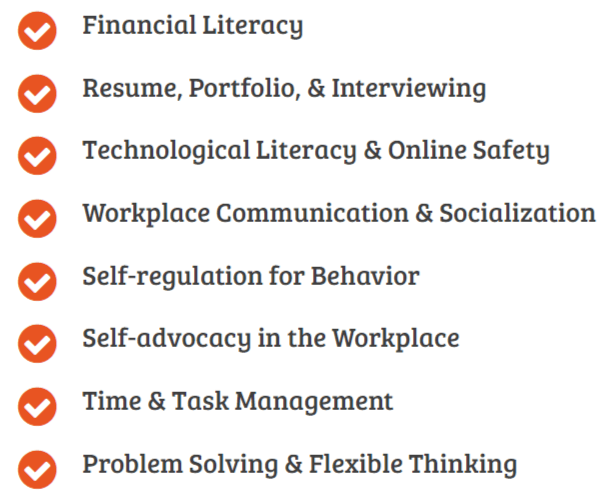 Digitability teaches students work-ready skills so they can transition to their independence. We provide schools with differentiated lesson plans, an online platform, data reports, and teacher training. In return, special education students develop the work-ready portfolio and the social skills they need to be independent.
Launch event date & time: Thursday, January 25, 2018 from 8:00am - 3:00pm
The launch event will be held at:
Intensive Resource Room/Life Skills
12200 Lamar Avenue 
Overland Park, KS 66209
To RSVP now please complete the form on the side.
Questions about Digitability's Work-ready Skills Program?
"As​​ ​​we​​ ​​lead​​ ​​our​​ ​​students​​ ​​into​​ ​​a​​ ​​technology-driven​​ ​​future,​ ​Digitability​​​ ​​moves​ ​students​ ​closer​​ ​​to​​ ​​their​​ ​​career​ ​and​​ ​​life​​ ​​goals.​ ​Digitability​​ ​not​​ ​​only​​ ​​teaches​​ ​​digital​​ ​​skills,​​ ​​but​​ ​​it​ ​also​​ ​​incorporates​​ ​​a​​ ​​positive​​ ​​classroom​​ ​​management​ ​behavior​​ ​​system​​ ​​based​​ ​​on​ ​financial​​ ​​literacy.​​ ​​Students​​ ​​learn​​ ​​about​​ ​​money,​​ ​​budgets​​ ​​and​​ ​purchases.​​ ​​It​​ ​​teaches​ ​language​ ​and​​ ​​concepts​​ ​​found​​ ​​in​​ ​​the​​ ​​workplace​​ ​​setting."
Jane Cordero
Secondary​ ​Special​​ ​​Education​​ ​​Coordinator​ ​at​ ​Hill Freedman​ ​World​ ​Academy​