NEW! Online Bankability and Positive Behavior Support Program by Digitability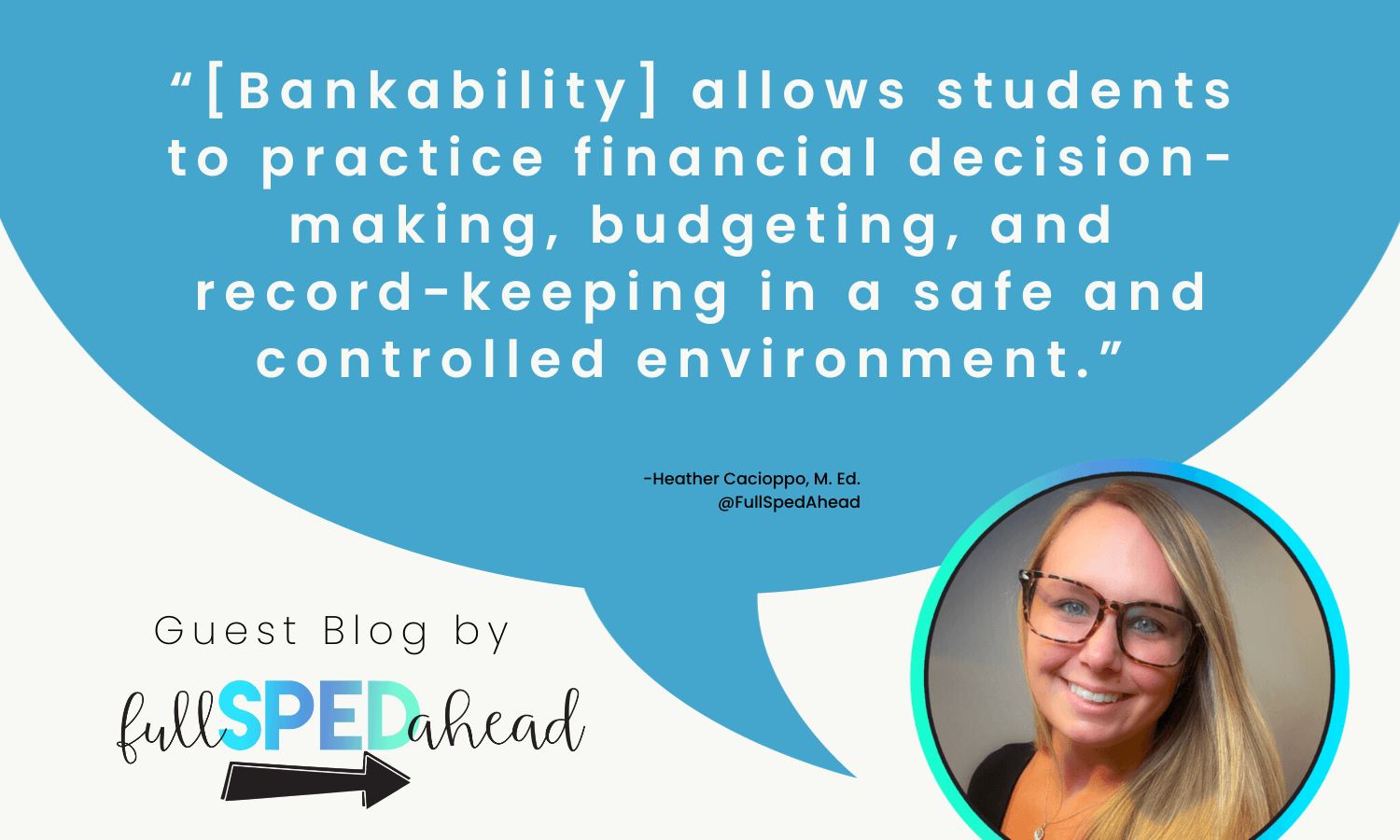 In the ever-evolving changes of the world, how can we find innovative ways to equip students with the skills they need for independent and successful lives? Digitability's award-winning, work-ready program is now making its newest innovation available to all teachers and taking a significant step towards fostering financial literacy and workplace readiness with its new virtual banking platform, Bankability.
Bankability is a groundbreaking platform that allows students to experience a modern banking app while learning financial literacy and workplace behavior. This innovative concept empowers students by allowing them to earn and manage virtual money for practicing workplace behaviors.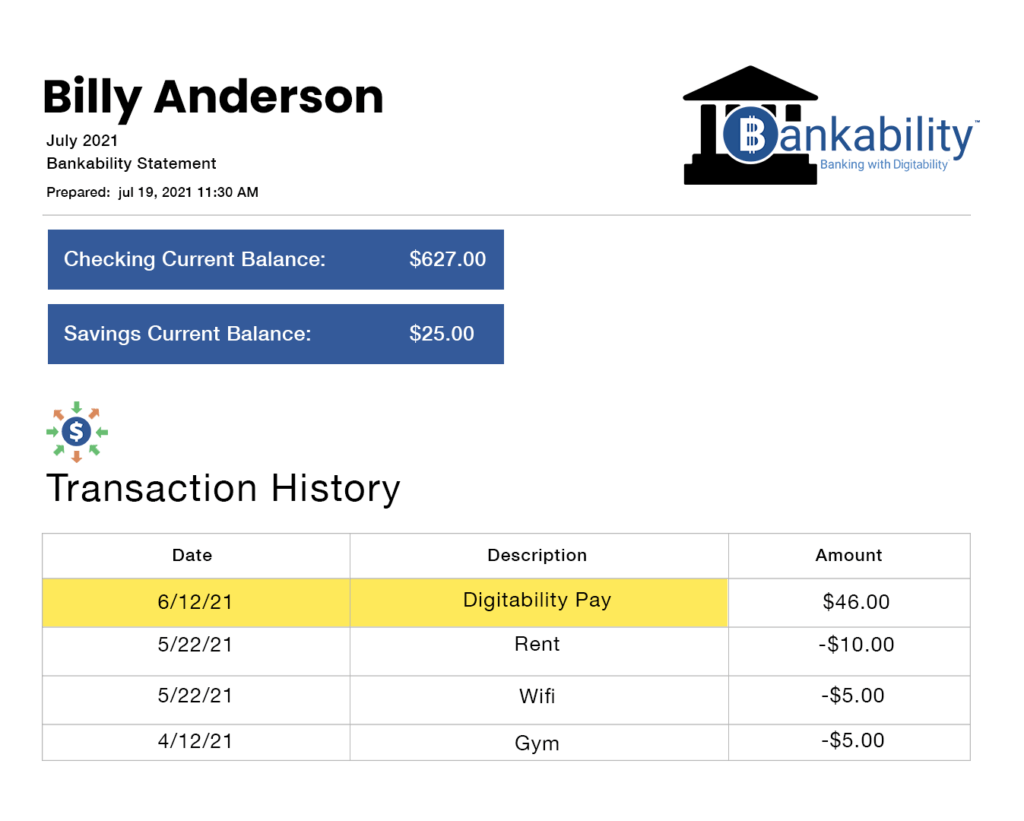 For example, when students exhibit behaviors like participating, collaborating, problem solving, sharing and more, they earn virtual dollars that are direct deposited into their personal checking accounts. This money is then used to pay bills and purchase classroom rewards or privileges. The integration of financial concepts with practical workplace skills offers students a holistic learning experience that prepares them for real-world challenges. We want our students to be prepared for independent living and financial independence.
If you want to know more about Digitability, here are 3 reasons why you need it.
Get Your FREE Quote Today!
How does Bankability Work?
With this program, students receive direct deposits on payday, review pay stubs, and access personal bank statements. This not only teaches financial management skills but also introduces them to the concepts of earning, spending and managing their own money for the near and long term; a crucial life skill.
What can this do for Students and Teachers?
Bankability's virtual bank account system provides students with the opportunity to manage both checking and savings accounts. They can pay bills, make purchases, and review their financial transactions – all from their online bank account. This immersive experience allows students to practice financial decision-making, budgeting, and record-keeping in a safe and controlled environment. Teachers have an opportunity to teach these skills in a structured environment that is safe for all students.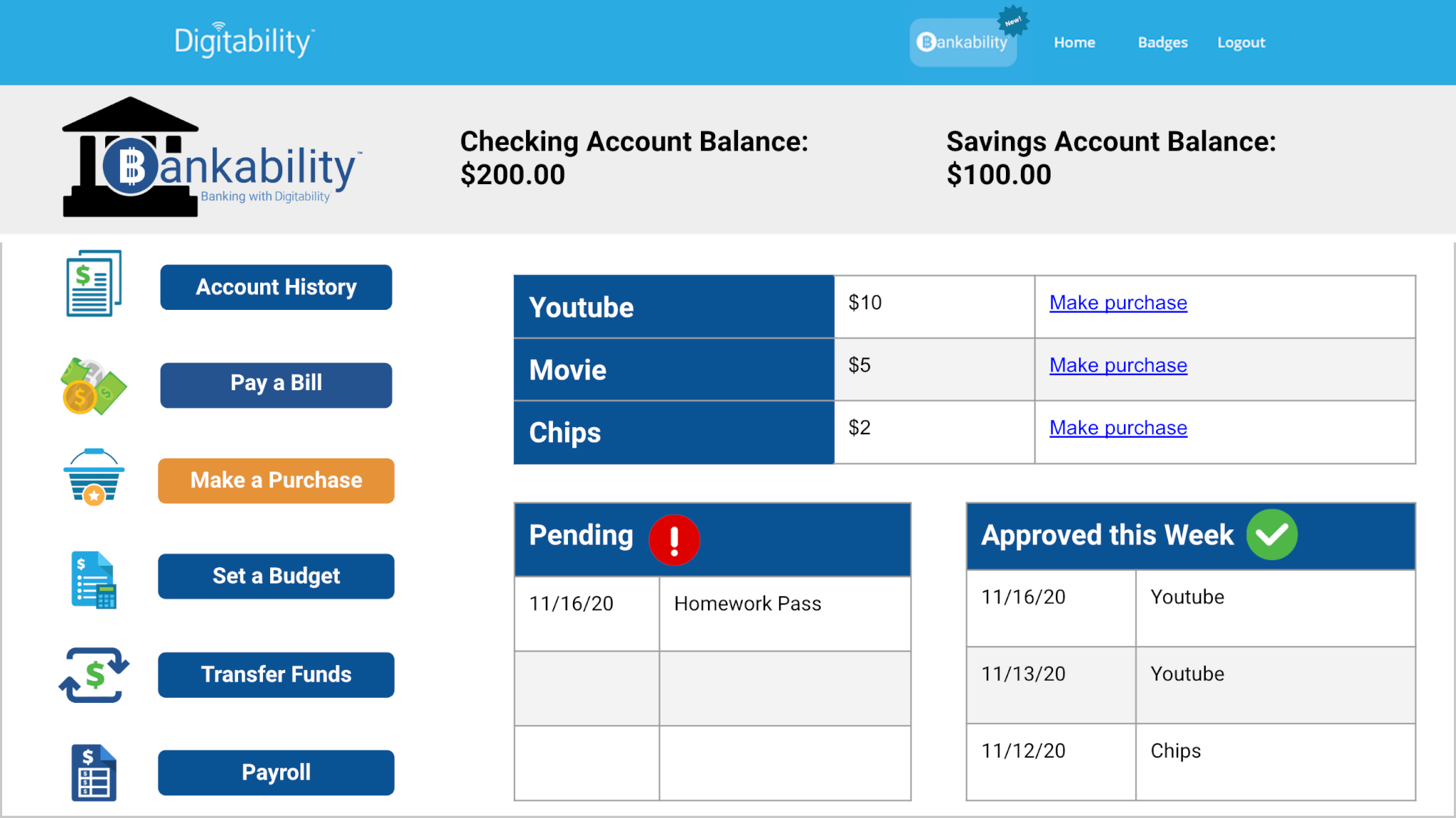 For educators, Bankability offers an array of tools to facilitate effective classroom management. Teachers can customize classroom bills and rewards, making the curriculum adaptable to the specific needs of their students. They can also run payroll and approve purchase requests from their Bankability dashboard, streamlining administrative tasks. This feature not only enhances the learning experience for students, but also simplifies the workflow for educators. Overall, this makes it easy for teachers to teach financial independence.
Want to know more about Bankability, check out this post: https://digitability.com/back_to_school_with_bankability/
What about IEPs for Special Education students?
Furthermore, this enhances the curriculum's ability to track workplace readiness progress through Digitability's Individual Education Program (IEP) Transition Goal Bank. Assigning virtual money to specific workplace behaviors allows teachers to monitor students' growth over time. This tracking feature provides valuable insights into students' skill development and helps teachers tailor instruction to individual needs. Generating progress reports is also made effortless, enabling educators to collaborate effectively with their special education teams. Teachers can create IEP goals directly with the support of Bankability and use their IEP goal bank for a variety of learning domains.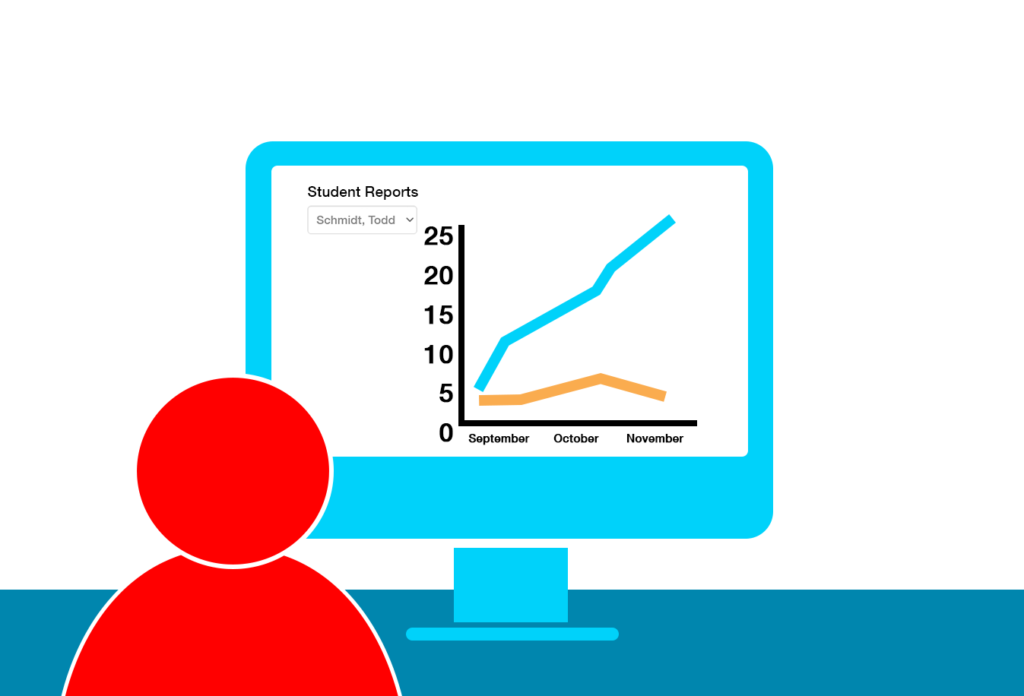 The introduction of Bankability aligns with Digitability's overarching mission to prepare students for meaningful and fulfilling lives beyond the classroom. By integrating financial literacy into workplace readiness, students gain a well-rounded skill set that empowers them to navigate real-world situations confidently. The ability to manage their own virtual finances encourages a sense of responsibility and ownership, nurturing their self-efficacy and independence.
Sign up today!
Digitability's new Bankability program revolutionizes the way students learn about finances and workplace behaviors. The integration of financial literacy into the curriculum equips students with practical skills they can use to lead independent lives. Bankability's user-friendly interface, customizable features, and progress-tracking capabilities benefit both students and educators.
As we continue to prioritize comprehensive education for students with cognitive and developmental disabilities, Bankability stands as a pioneering solution that bridges the gap between classroom learning and real-world application.