A Philly Special Education Teacher Shares His First Experience with Digitability
Editor's note: this Digitability testimonial and impact statement is from Jake Jacobs, a Special Education Teacher from the School District of Philadelphia at South Philly High. Jake also facilitates the Digitability Work-ready Skills Training Program in his classroom. 
Happy Thursday!

As anecdotal info, I had one of my more computer-literate students log into her Digitability account, and start the curriculum, and I was so impressed with the online student environment!

She really likes it as well, especially the crunchy-beats on the soundtrack which were very fresh.

The text highlighting which follows the voice-over on the questions was terrific, the speech rate was perfect. Good stuff!

I then started receiving Digitability emails about her progress which was nice, but not unique in the software world, and then I got a 'student needs help!' email! Awesome! Bravo!

Peace,

Jake

S.E. 'Jake' Jacobs, M.Ed.

Special Education, Computer Science

South Philadelphia High School

School District of Philadelphia
Showcase: Digitability & PA OVR Partner to Launch Digitability's Work-ready Skills Program in Philly 
Recently, Jake was among 120 special educators from 18 the Philadelphia School District schools who took part of a historic launch event of the Digitability Work-ready Skills Program. Click to see videos, pictures, teacher impact statements and more on this showcase page.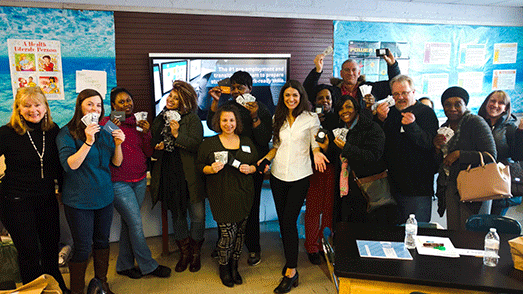 The launch event was in partnership with the Pennsylvania Department of Labor & Industry's Office of Vocational Rehabilitation (OVR). The purpose of the launch was to rollout Digitability's pre-employment and transition work-ready training program is rolling out to about 2,000 students age 14-21 with a disability in Philadelphia County.
If you'd like to learn more about bringing Digitability to your school through PA OVR or observing Digitability, please click here.